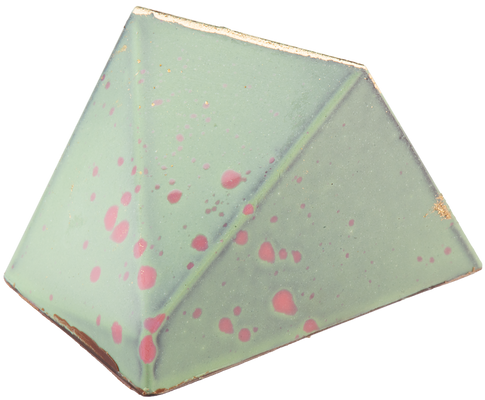 alkohol
DIE SORTEN
GLUTENFREIES
laktose
nuss
Juniper Rose N° 20
We soak the green juniper berries in oil and use them to enrich the creamy hazelnut butter.
This praline has 2 layers. Green juniper berries and hazelnuts, that just fits! Dark chocolate and a touch of rose. This composition fits perfectly into the cool season. Soft and warming. Soft - warming - harmonious
At least 14 days shelf life. Store in a cool and dry place, 12 - 17°C.
All ingredients
Kuvertüre, Kakaoanteil 84% (Kakaomasse, Kakaobutter, Zucker)
°
Erdhof Sahne
°
Aava Verjus
°
Bayrische Haselnüsse
°
Wilder Wacholder
°
Weiße Bergheumilchschokolade
°
Ferdinand Probst Wermuth (17% Vol.)
°
Siebengiebelhof Butter
°
Rosenblüten
°
Luisenahller Salz
°
Pflanzliche Lebensmittelfarben
°
Product nutritional values ​​per 100g
(a praline weighs approx. 10g)
kcal
464
kj
1942
Kohlenhydrate
19
– davon Zucker
14
Eiweiß
13
Fett
38
– davon gesättigte Fettsäuren
9,3
Our chocolates are made by hand every day in Berlin. Each of our ingredients is picked and processed by us or obtained in collaboration with the most uncompromising pioneers of regional & sustainable food production.
Companies that trust us. Media that supports us:
Bottega Veneta, Louis Vuitton, Bolia, Occhio, Celine, Google, Haus der Kunst Munich, Süddeutsche Zeitung, Berliner Tagesspiegel, Vogue Germany, Spike Art Magazine, ...