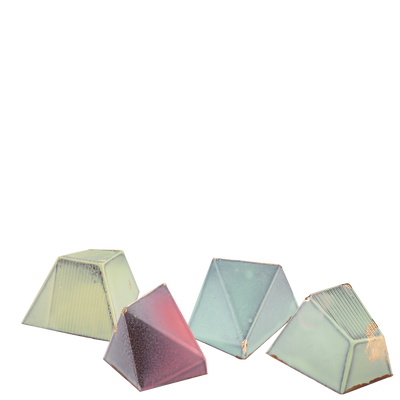 GLUTENFREIES
LAKTOSEFREIES
nuss
SETS
VEGANES
Vegan chocolates | Our mix
Various vegan chocolates packaged as gifts.
Do you avoid animal foods? We respect that. Many of our chocolates are vegan – and not just for the sake of it. But also because they taste particularly good. You can enjoy vegan delicacies that are in no way inferior in taste to other products. Enjoyment is our top priority. We only use the best ingredients that we source directly from our producers. This makes them particularly tasty. Enjoy the chocolates as sensual pleasures for yourself or a loved one. When you order, you will receive nine carefully selected chocolates, which we will elegantly wrap as a gift. We would be happy to include a handwritten card for you.
At least 20 days shelf life. Store in a cool and dry place, 12 - 17°C.
All ingredients
Kuvertüre, Kakaoanteil 84% (Kakaomasse, Kakaobutter, Zucker)
°
Bayrische Haselnüsse
°
natürliche Lebensmittelfarbe
°
Luisenhaller Salz
°
Product nutritional values ​​per 100g
(a praline weighs approx. 10g)
kcal
608,4
kj
2521
Kohlenhydrate
27,8
– davon Zucker
10,3
Eiweiß
10,9
Fett
49
– davon gesättigte Fettsäuren
0
Our chocolates are made by hand every day in Berlin. Each of our ingredients is picked and processed by us or obtained in collaboration with the most uncompromising pioneers of regional & sustainable food production.
Companies that trust us. Media that supports us:
Bottega Veneta, Louis Vuitton, Bolia, Occhio, Celine, Google, Haus der Kunst Munich, Süddeutsche Zeitung, Berliner Tagesspiegel, Vogue Germany, Spike Art Magazine, ...