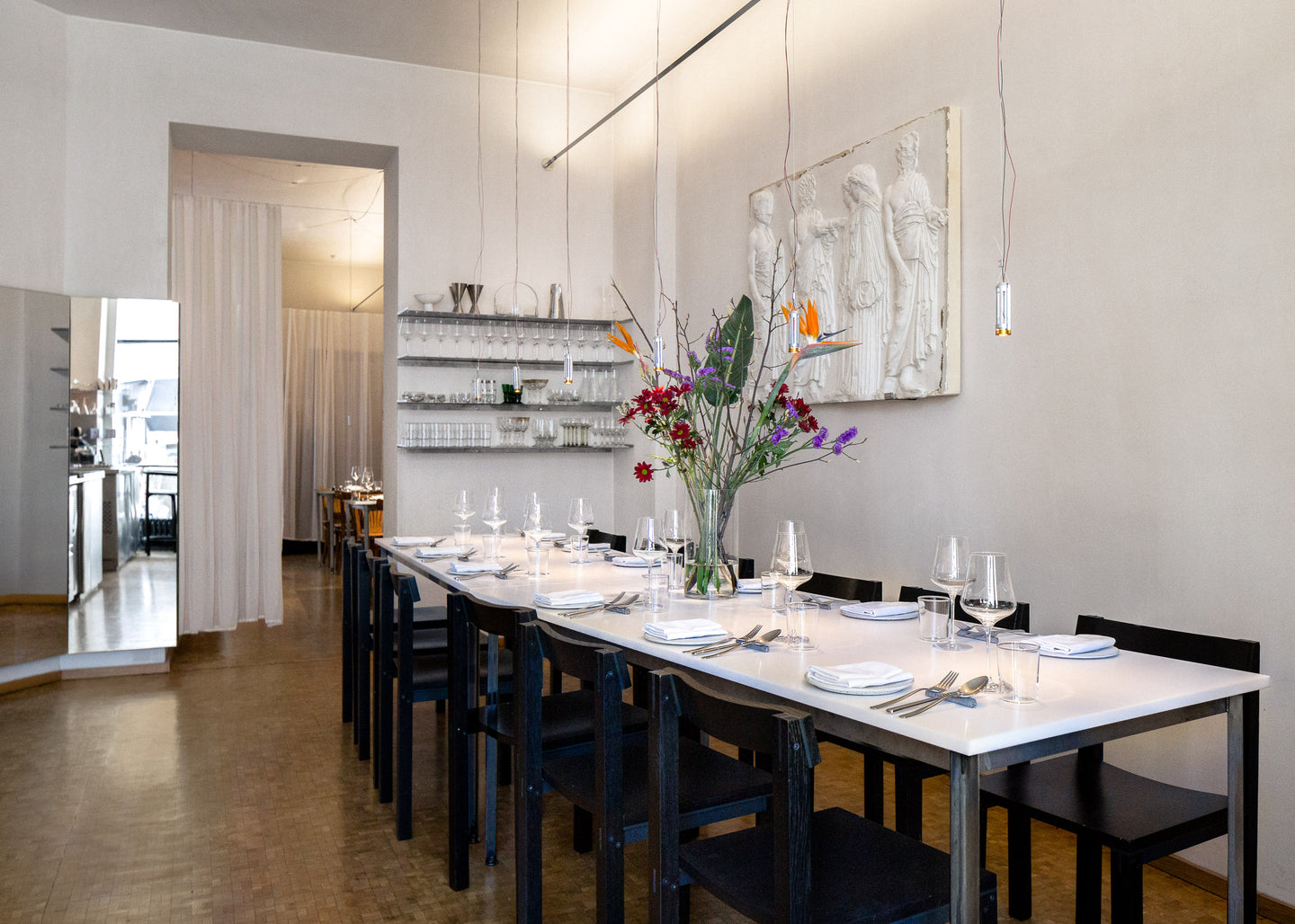 pars Restaurant
Grolmanstrasse 53,
10623 Berlin
+49 30 49919786
In the evening you can enjoy a changing menu.
During the day, the seasonally changing collection of chocolates can be purchased in the restaurant.
Kristiane Kegelmann is continuing the project of her pars chocolates - as beautiful as works of art and always a three-dimensional taste experience - in Berlin-Charlottenburg: With a restaurant in which dishes are reduced to their essence and guests and employees alike should feel good.‍
It all began in 2017 in a small studio in Prenzlauer Berg: the young sculptor's culinary-artistic experiments in the form of sculptural and performative pleasure objects resulted in pars chocolates - they quickly became an integral part of the young Berlin gastronomy and art scene. ‍Now the pars Restaurant creates the appropriate framework for new culinary experiences and experiments in a former West Berlin institution - the former Café Savigny.
Kristiane Kegelmann has created a whole around Alina Jakobsmeier's straightforward cuisine.‍ The chef's menu stands on its own, intoxicated by delicate clarity and warmth. "An attraction," says Felix Denk, restaurant critic for the Tagesspiegel. "The plates have nothing impressive about them, they lack any kind of impressive posturing. And that's what makes it so impressive." ‍
The menu is accompanied by an exciting wine selection by sommelier Christoph Geyler. ‍
Follow us on Instagram to find out more about us. we look forward to seeing you
‍

Your pars team
Press inquiries to:
kristiane@pars.berlin
Here you will find our current menu (subject to change due to seasonally changing ingredients).
People who trust us. Media that supports us:
Bottega Veneta, Louis Vuitton, Google, Haus der Kunst Munich, Süddeutsche Zeitung, Berliner Tagesspiegel, Vogue Germany, Spike Art Magazine, ...
Our chocolates are made by hand every day in Berlin. Each of our ingredients is picked and processed by us or obtained in collaboration with the most uncompromising pioneers of regional & sustainable food production.