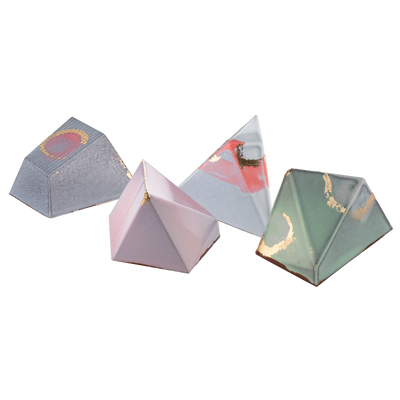 Set of Love | Our favorites
A collection of our current favorite varieties. A special gift or as a dessert for a dinner.
Lovingly handmade chocolates - a collection of our current favorite chocolates that will let you taste and feel how much we love our work.
The perfect gift for someone you want to give your love to.

When you order, you will receive a variety of carefully selected chocolates, which we will elegantly wrap as a gift.
We would be happy to include a handwritten card for you.

Min. Shelf life: 14 days, please store in a cool, dry place at 12-17°C.
Contains a trace of alcohol.

All ingredients
Holger In't Veld's Kuvertüre, Kakaoanteil 82% (Kakaomasse, Kakaobutter, Zucker)
°
Erdhof Seewalde Sahne
°
Bayrische Haselnüsse
°
Blümchen-Butter vom Siebengiebelhof
°
Spuren von Alkohol
°
Blüten, Früchte, o.ä.
°
natürliche Lebensmittelfarbe
°
Luisenhaller Salz
°
Product nutritional values ​​per 100g
(a praline weighs approx. 10g)
kcal
608,4
kj
2521
Kohlenhydrate
27,8
– davon Zucker
10,3
Eiweiß
10,9
Fett
49
– davon gesättigte Fettsäuren
0
Our chocolates are made by hand every day in Berlin. Each of our ingredients is picked and processed by us or obtained in collaboration with the most uncompromising pioneers of regional & sustainable food production.
Companies that trust us. Media that supports us:
Bottega Veneta, Louis Vuitton, Bolia, Occhio, Celine, Google, Haus der Kunst Munich, Süddeutsche Zeitung, Berliner Tagesspiegel, Vogue Germany, Spike Art Magazine, ...