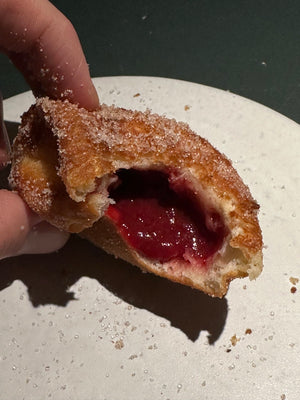 NEW YEAR'S EVE DONUT SET OF 6 | Collection December 31st at pars
No matter what you call them, we all love them. Celebrate New Year's Eve with New Year's Eve donuts filled with full-bodied creams or jams. On New Year's Eve we make Berliners filled with plum or eggnog!
Berliners, pancakes, doughnuts
Pre-order a set of 6 and get it on December 31st. with us during the day!

Grolmanstrasse 53, 10623 Berlin
From 3 p.m. there will be Krapfen and champagne on site. If you feel like it, enjoy another glass with us.
We look forward to seeing you!
Our chocolates are made by hand every day in Berlin. Each of our ingredients is picked and processed by us or obtained in collaboration with the most uncompromising pioneers of regional & sustainable food production.
Companies that trust us. Media that supports us:
Bottega Veneta, Louis Vuitton, Bolia, Occhio, Celine, Google, Haus der Kunst Munich, Süddeutsche Zeitung, Berliner Tagesspiegel, Vogue Germany, Spike Art Magazine, ...